Edgewater is home to over twenty local theatre groups, each of which produces the kind of theatre that shows why Chicago has one of the liveliest theatre scenes in the United States. With an emphasis on storefront theatre, Edgewater's theatre district allows audiences to experience ground-breaking theatre in intimate settings. Taking in a show and 'making a night of it' with dinner and drinks helps boost Edgewater's economic activity by up to $1.2 million in local restaurant, bar and service revenue. Last week, we made an evening of it and went along to Raven Theatre Company's production of Sundown Yellow Moon.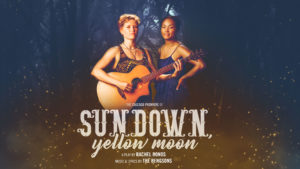 It's a cold November evening and we're all peeling off the nineteen layers we wore getting to Raven. Step inside to the east theater though and it's a summer evening, the evening sun heavy, the kind of an evening to be spent lolling about languorously, sipping lemonade. In Sundown Yellow Moon, we witness that tale as old as time about young city dwellers on a visit home, doing that thing we all do; projecting worldliness but really just wanting to be minded, frustrated when that's not intuited. What's special about Sundown Yellow Moon is how the story is told. Gently strumming guitars, heartfelt but understated singing and a lush Americana soundtrack transports this November Chicago crowd to rural America and a sizzling summer. The family are stymied by poor communication, and they strive to overcome this through music. Jordan Dell Harris excels as the enigmatic and sensitive Carver, and Will Casey excellently portrays Tom, frustrated by his inability to thrive either as a father or a teacher.  I was late getting to see Sundown Yellow Moon; it's only running for another week (the last show is on Sunday) and in this weather, it's a treat for anyone already missing the summer.  
Sundown, Yellow Moon by Rachel Bonds is running until November 17 at Raven Theater, 6157 N. Clark Street. Call 773.338.2177 to make your reservation or visit https://www.raventheatre.com/. Running time is 1 Hour and 30 Minutes without interval.