Edgewater and local area residents have gotten a new addition to their selection of coffee shops with the recent opening of Rewired Cafe, located at 1107 W Berwyn. Rewired is a community focused cafe that serves coffee, pastries, sandwiches, and other specialty food and drink items. The Edgewater location is Rewired's second one, with the first one being in Lakeview.
The drink menu includes everything from the cafe's medium or dark roast drip coffee to various latte and tea concoctions. To go along with the drinks, there are many food options that will satisfy those who come in hungry. Rewired features an all-day breakfast that has items like a $4 egg & cheese focaccia and avocado toast. For lunch, which is served all-day as well, there are multiple sandwiches and a veggie flatbread. All of the food is $8 or less and can be made gluten free or vegetarian. A selection of pastries and desserts tops off a menu that has what you want from a coffee shop.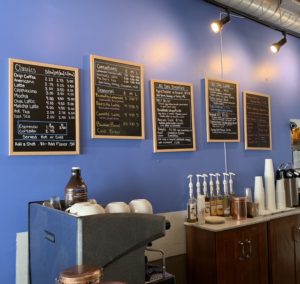 Not only are all of these items delicious, customers get the added benefit of knowing that everything was made locally. All of the coffee is brewed in Chicago, and many of the pastries are from Edgewater bakeries, such as Phlour and Defloured.
Prior to opening Rewired, Daniel Barat, the owner, spent his career in the food industry with a focus on upscale dining, even becoming a licensed Sommelier. In 2017, he stumbled upon a coffee shop called Wired in Lakeview and decided to revamp it. Then, a similar situation occurred in Edgewater when the location where Kitchen Sink used to be became available.  Kitchen Sink was Barat's favorite coffee shop, so opening a second location there was too good of an opportunity to pass up.
It seems to have been the right decision since Rewired has a warm and welcoming atmosphere that suits the neighborhood. The homey vibe is perfect for residents that want a quiet place to get work done or grab some coffee with friends. Additionally, Rewired will be hosting events, like open mics, to foster community growth and showcase local talent.
Local residents should make sure to stop in and give Rewired a try! Small businesses keep the community growing, especially ones like Rewired that give back to the area. Give them a follow on Twitter @LakeviewRewired, Instagram @rewiredcafes, or check out their Facebook!