Edgewater is home to over twenty local theater groups, each of which produces the kind of theater that shows why Chicago has one of the liveliest theater scenes in the United States. With an emphasis on storefront theater, Edgewater's theatre district allows audiences to experience ground-breaking theater in intimate settings. Taking in a show and 'making a night of it' with dinner and drinks helps boost Edgewater's economic activity by up to $1.2 million in local restaurant, bar and service revenue. On Saturday, we made a night of it and went along to Steep Theatre's production of Pomona.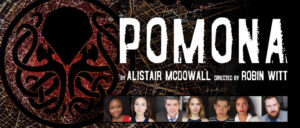 The director tells us that Pomona a wasteland in Manchester and we meet characters who find themselves at one point or another in Pomona dealing with morality and mortality, danger and denial. Is it really the case that the only thing necessary for the triumph of evil is that good people do nothing? Or is it the case that for some, 'nothing' is the only option? 
Pomona is challenging but dark. Ideas are more important to the play than the actual story, though audiences will be intrigued by the stories of hope. Pomona doesn't 'do' answers but instead urges engagement with themes and concepts relevant to urban dwellers; isolation, detachment, complicity, empathy and charity. (These are relevant to rural living too as Pomona is, after all, a bare space). Though interpretations of the play abound, the theme of denial and the dark places denial can take us was central.
Pomona is a triumph of storefront theater. At Steep, it is presented in a small space with the audience seated around the performance, lending an urgency and immediacy to the action, almost immersive at the most intense moments. The set is sparse; the lighting tells far more of the story than any props do. Though the play's bleakness is undeniable, hope springs forth in the beautiful performance of Brandon Rivera as the security guard more comfortable in fantasy role-play than real life. Ashlyn Lozano expertly portrays a sex worker who tries to suppress her empathy in order to survive but fails to do so.  
You'll emerge from Pomona with more questions than answers, but much food for thought on the increasing detachment and isolation of modern living. 
Pomona continues through August 24 at Steep Theatre, 1115 W. Berwyn. Running time is 100 minutes with no intermission. Tickets are $10-$38 for performances Thursday-Sunday. This production is intended for adult audiences. https://steeptheatre.com/