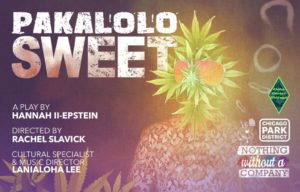 Edgewater is home to over twenty local theatre groups, each of which produces the kind of theatre that shows why Chicago has one of the liveliest theatre scenes in the United States. With an emphasis on storefront theatre, Edgewater's theatre district allows audiences to experience ground-breaking theatre in intimate settings. Taking in a show and 'making a night of it' with dinner and drinks helps boost Edgewater's economic activity by up to $1.2 million in local restaurant, bar and service revenue. On Saturday, we made an afternoon of it and went along to Nothing Without a Company's production of Pakalolo Sweet. 
Nothing Without a Company presents Pakalolo Sweet, the second in Hannah Ii-Epstein's Hawaiian drug trilogy and the prequel to her previous play Not One Batu. Junior Boy, a young man who comes from a lineage of pakalolo (cannabis) growers and whose partner is pregnant with their first child. The story unfolds over a night of smoking, drinking and karaoke, revealing that indeed, there is trouble in paradise. 
The setting is beautiful – a colourful Pacific paradise – but as the play unfolds and the difficulties of the characters' lifestyle becomes apparent, it's clear that all is not well. We know this from the very beginning when we are alerted to trigger warnings by actors and production staff. The play contains gunshot, physical violence, drug use and strong language. Audience members are not let rest easy; on one hand, we are invited to sing karaoke, play cards and chat with the cast and the setting is relaxed. And yet, there is an unshakable sense of foreboding.
In Pakalolo Sweet, mental illness, gun violence, family, suicide, desperation and betrayal are addressed. The question of what makes a person 'strong' is examined. Though the script is abrupt at times, the performances are heartfelt and convey the bonds of affection that unites this small community . The stand-out performance comes from Dean Santiago and his crooning singing voice. A small dictionary of Hawaiian pidgin English in the programme proves useful though not essential. The running time could have been shorter but then again, there's a whole lot to pack in. One thing's for sure, audiences will not be bored. 
Pakalolo Sweet

, written by

Hannah Ii-Epstein

, and directed by

Rachel Slavick,

with

Lanialoha Lee

as

Cultural Specialist & Music Director

. Pakalolo Sweet previews

September 13, 14 & 16th

7:30pm – 9:30pm, and runs

September 17th

to

October 5th

, Monday – Saturday at 7:30pm & Saturday at 4:30pm in

The Coach House at Berger Park Cultural Center, 6205 N Sheridan Rd., Chicago IL

. Tickets are priced between $10 – $35, and are available now at

NothingWithoutaCompany.org

. Press preview  Saturday, September  14th, 7:30pm.