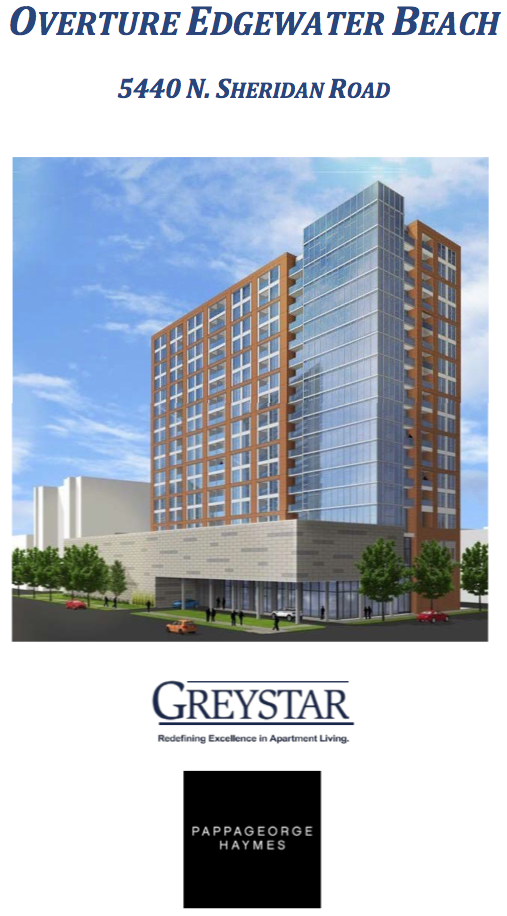 OVERTURE EDGEWATER BEACH ("OVERTURE")
Overture will be an active-adult, age-restricted (55 years or older) rental community; an amenity-driven project for active, independent seniors, not assisted living or continuing care. Edgewater meets the criteria for active-adult in terms of access to the lake, parks, shopping, dining, public transportation and demographics.
Amenities
Over 14,000 square feet of exterior amenity space on the 4th level will include a pool, deck, and green roof. Over 9,000 square feet of interior amenity space will include meeting rooms, exercise space, and other amenities to be determined. The lobby, salon, leasing/management office, concierge services and drop-off drive will be on the ground level. Secure bike storage will be in the lower level. Local and express bus service is located just outside Overture's main entrance on the corner of Catalpa and Sheridan. Both the Bryn Mawr and Berwyn "L" stops are within easy walking distance.
Residences
Overture will consist of 186 apartments; one bedroom (46%), one bedroom + den (15%) and two bedroom (39%) units ranging in size from 791 to 1,218 square feet. Condo-level finishes will include stone countertops, stainless steel appliances, upgraded cabinetry and hardwood-style flooring. Recessed balconies will be included in the majority of the apartments.
Parking
190 indoor, heated parking spaces (over 1:1 ratio) will be available for the residents. 60 additional indoor parking spaces are designated for the 5445 North Sheridan Condo Association (who own the project's lot on Sheridan and Catalpa). Indoor Parking is accessed only from Catalpa and Sheridan. 17 additional parking spaces are along the alley and can be utilized for visitor parking. 2 more alley spaces are dedicated for car-sharing programs.
Architecture
Designed by local, award-winning architects, Pappageorge Haymes (P/H), Overture will utilize rich building materials such as brick, glass, steel and other elements to define the exterior design and emphasize the project's residential appeal. P/H has paid close attention to how the building relates to the other adjacent buildings; recessed balconies on all four elevations to provide visual interest; the all-glass component on the northeast corner softens its presence on the Sheridan/Catalpa street corner; the east façade of the residential component of the building is set back 55' from the property line eliminating any "canyon effect" along Sheridan Road; the entire west façade is set back 20' from the property line to open up the alley and provide landscaping. Overture will be 18-stories tall, 200' in height – well below the average height of most of the mid-rises on this block of Sheridan Road. The overall square footage is within the proposed Planned Development zoning.
Rental
Overture's rental rates will include the building's amenities. Since the project will not deliver for two years, specific rates are not available at this time. 19 units (10%) will have affordable rental rates as required by the City's new Affordable Requirement Ordinance (ARO).
Developer
Developed by Greystar (www.greystar.com), a national, top-ten ranked, fully- integrated, apartment developer with $3.2 billion of apartment projects currently in the pipeline across the U.S. Overture will be Greystar's first project in the greater Chicagoland market. The Carlyle Group, one of the largest private investment firms based in Washington DC, has been slated by Greystar to provide the required equity for the project.
Management
Overture will also be managed by Greystar, the largest apartment management company in the U.S., managing over 400,000 units in 39 markets. Greystar maintains a regional management office in downtown Chicago and currently manages 6,000 units in the Chicagoland area, including many of the most notable luxury apartment communities: SoNo East, Optima Chicago Center, E2, Halstead Flats, K2.
General Contractor
The General Contractor will be Lend Lease, the international GC who built "The Admiral" at Foster and Marine Drive.
Community Process
Alderman Osterman has requested that Greystar, as the developer of Overture, present the project to the neighboring community for their input. We welcome your comments. At the conclusion of the community review process Alderman Osterman will hold a final advisory community meeting to ascertain the community's views of the project for his final decision. Greystar will then file Planned Development and Lakefront applications with the City's Department of Planning and Development.
Edgewater Development Corporation is helping facilitate Ald. Osterman's community process for the Overture Edgewater Beach Proposal. As a City of Chicago delegate agency that is community based, EDC is experienced with the 48th Ward process, zoning, and community stakeholders. Edgewater Development Corporation can be reached at (773) 506-4016 or info@edgewaterdev.org.
For more information contact: Graham Grady, zoning attorney: (312) 836-4036 or GGrady@taftlaw.com.